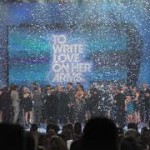 Raise your hand if you watched the American Giving Awards Saturday night.
Didn't think so.
The program ran on NBC except it wasn't a program so much as a promo for JPMorgan Chase, which financed and sponsored it. All they needed was a network to present it as legitimate content, which NBC was more than willing to do.
According to the New York Times, when asked if the American Giving Awards was an advertisement, an NBC spokeswoman said, "No. It's a show about charitable giving."
But not, apparently, one the network is particularly proud of, since plugging "American Giving Awards" into the NBC.com search box returns this:
The president of the JPMorgan Chase Foundation, which says it doles out $150 million a year, was proud though, calling it a celebration of "ordinary people doing extraordinary things in communities" . . . with the money they got from Chase, of course, which the show mentioned numerous times in addition to the eight 30-second commercials and the multiple "presented by Chase" in-show mentions.
That's not an advertisement only in MagritteWorld.
Actually, Lisa Graves of PR Watch told the Times, it's even worse: "[It's a] 'greedwashing' campaign to score P.R. points." Graves added that the $2 million in donations that were featured on Saturday night "are a drop in the bucket compared to the ultra-lush benefits for bankers who profited richly from the swaps that undermined our nation's financial security."
That sweeping enough for everyone?
Then again, the "feel-good holiday season special" didn't do so good. According to tvbythenumbers.com:
The American Giving Awards drew a microscopic 0.3 adults 18-49 rating and just 1.5 million viewers.
Just? That's 1.5 million more than it deserved.
---
John R. Carroll is media analyst for NPR's Here & Now and senior news analyst for WBUR in Boston. He also writes at Campaign Outsider and It's Good to Live in a Two-Daily Town.
John R. Carroll has 305 post(s) on Sneak Adtack
---