This week's trifecta: Shopping, Apping, Voting.
The Internet Is Not Your Girlfriend
Big Wall Street Journal takeout on The Shopping Social Network:
Connection is the new name of the fashion e-commerce game. But do we really want the entire World Wide Web tuning in when we're just browsing for new winter boots?

UP UNTIL A FEW WEEKS AGO, I always thought social shopping was the emergency text I would send to a pal in Milan, where I live, seeking real-life face time: "HEY RI, C U 3PM AT PRADA!" After all, some friendly encouragement makes pulling the credit-card trigger a more entertaining endeavor. It turns out, however, that my notion of social shopping is totally 20th century. Several new fashion websites—among them Feyt, Lyst, Pose, Snapette, Motilo, Trendabl, the Cools and even Pinterest—are today's social pioneers, taking the "trusted girlfriend doubling as personal shopper" idea and embedding it onto the digital shopping experience, through photo sharing and real-time commentary from other shoppers, stylish insiders and even people you know. I can now shop with friends in New York, strangers in Paris and stylists in Los Angeles, while I'm at my desk in Milan. But will being more social make me a better shopper? Or will it simply make shopping home alone a lot more fun?
Read the rest of the piece to find out. Helpful graphic to (dis)orient you: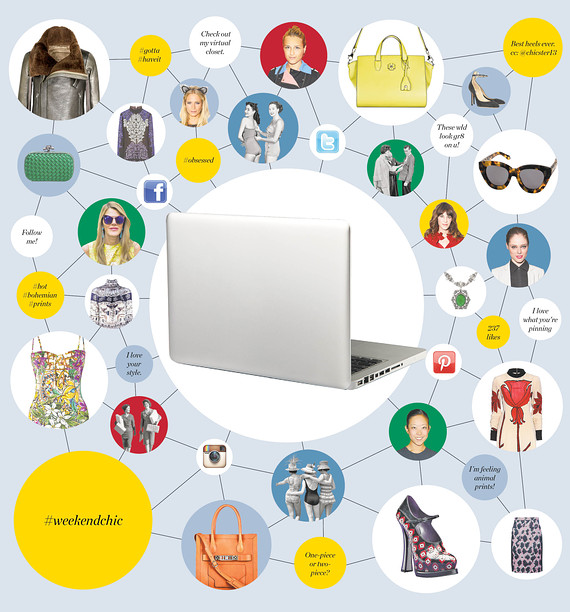 Happy hunting.
Privacy Pecked to Death by Angry Birds
Interested in protecting your Internet privacy? The law might not be on your side.
From the New York Times:
Data-Gathering via Apps Presents a Gray Legal Area

BERLIN — Angry Birds, the top-selling paid mobile app for theiPhone in the United States and Europe, has been downloaded more than a billion times by devoted game players around the world, who often spend hours slinging squawking fowl at groups of egg-stealing pigs.

While regular players are familiar with the particular destructive qualities of certain of these birds, many are unaware of one facet: The game possesses a ravenous ability to collect personal information on its users.
And the Birds aren't the only ones feathering their nests.
[A]pplications like Angry Birds and even more innocuous-seeming software, like that which turns your phone into a flashlight, defines words or delivers Bible quotes, are also collecting personal information, usually the user's location and sex and the unique identification number of a smartphone. But in some cases, they cull information from contact lists and pictures from photo libraries.
I  other words, caveat birder.
Voter Registration, Redefined
Those  relentless Obama emails (Ebamails?) that voters have been getting are not just undermining his efforts, they're data-mining them as well.
From Mashable:
Voter Data: What the Candidates Know About You

Whether you're casting your ballot for Obama or Romney this November, or you're still on the fence, chances are both campaigns know it, thanks to vast amounts of personal data they've collected about eligible voters. In the seven weeks remaining until the election on Nov. 6, both campaigns will feed this data into statistical models to determine whether, and how, to enlist your support.

In a tight general election race (pre-debate polls show Obama leads Romney by about two points nationally), victory may hinge on which candidate best uses data to suss out supporters in unlikely places and get them to the polls. As campaigns crunch the numbers, they face few rules governing how they use the data; those they follow are largely self-imposed, or else dictated by licensing agreements with data suppliers. "It's less regulated than commercial applications of the same thing," says Michael Simon, principle with The Victors Group, who ran voter targeting for Obama in 2008.
To recap: Shoppers, Birders, Voters – beware.
---
John R. Carroll is media analyst for NPR's Here & Now and senior news analyst for WBUR in Boston. He also writes at Campaign Outsider and It's Good to Live in a Two-Daily Town.
John R. Carroll has 305 post(s) on Sneak Adtack
---