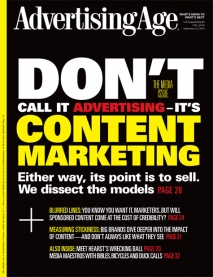 Last week's edition of Ad Age (cover: Don't Call It Advertising – It's Content Marketing) highlighted the growing influence of sponsored content on the journalism world, and in the process caught up to what the hardtracking staff has been saying for the past three years.
Namely, that native advertising – those ads in sheep's clothing that are designed as a spoonful of sugar to make the marketing go down . . . in a most delightful way – is a cancer on the news media.
Cover story (print edition):
'PARTNER POSTS' PUT PUBLISHERS BETWEEN A ROCK AND A HARD PLACE

Sponsored content is here to stay. But it creates a tricky trade-off for news orgs, which need the cash but fear backlash

Publishing used to be a simple — and very profitable — business. Promise to reach a fairly defined audience each week, and advertisers fork over big bucks to put their ads in front of those readers.

But with profits shrinking, the industry is getting more creative to attract marketers' dollars. And all anyone seems to want are sponsored posts.

"There is a furor on the buy side," said Mike Perlis, CEO of Forbes. "The buyers are all asking for sponsored content."
That furor adds up to big bucks. "Marketers are projected to spend $1.9 billion on sponsored content this year," Ad Age reports, "up 22% from 2012, according to eMarketer. By 2017, it predicts that number will reach $3.1 billion."
Nice number. But it comes at a price.
One publishing executive says two or three advertiser requests for proposals come in every month that "don't feel right." They ask for ads that too closely resemble editorial content or place editorial content in an ad without clearly demarcating it as such. "They are asking for [more editorial control]," the exec added.
In that stealth marketing spirit, Ad Age is using its own news coverage to promote Going Native, its handbook for creating exactly what the magazine's editorial content questions.
The "research report":
GOING NATIVE: CONTENT MARKETING STRATEGIES

HOW TO TURN BRANDS INTO STORYTELLERS

By Beth Snyder Bulik

In this report , you will learn:
• Why having a content marketing strategy is crucial to your brand's future
• How "native ads," "content marketing," "content strategy," and "branded integration" are leading marketers to adopt a new theory of communicating with consumers
• How content marketing differs from traditional campaigns, and why that's important
• Six concrete case studies that show you who did it right, and who did it wrong
• Tactics that work
• How to implement content marketing throughout your organization
• What talent you need to hire

Consumer behavior, and the balance of power between consumers and media, has shifted dramatically in the past decade. Connected consumers are now in charge of what, when, and where they consume their individually preferred content. They are just as likely to tune in to content they enjoy on prime-time TV as they are to web-surf on a smartphone in the morning, even before getting out of bed. And let's face it, most 30-second ads are not the preferred content they're tapping into. That means the once-powerful media companies are no longer the sole gatekeepers and arbiters of what people get to watch. Constantly pushing disruptive messages in front of consumers is no longer a viable strategy. Marketers today have to shift from what they want to say about the brand to what their audience wants to hear. For more and more in the marketing industry, the answer, at least in part, is content marketing. Creating a cohesive brand strategy that tells the story of the brand, relays useful information and entertains consumers in and around the products and services offered makes sense in this new world. If the 30-second commercials, print ads and radio spots churned out for decades aren't preferred content, why not create useful and entertaining content that is?
The watchdog needs watching, yes?
---
John R. Carroll is media analyst for NPR's Here & Now and senior news analyst for WBUR in Boston. He also writes at Campaign Outsider and It's Good to Live in a Two-Daily Town.
John R. Carroll has 305 post(s) on Sneak Adtack
---