Apparently there's no resisting the allure of native advertising these days. The latest converts to ads in sheep's clothing? USA Today and the Wall Street Journal.
The latter's surrender is the more interesting of the two, given the low opinion of native ads previously expressed by the paper's top editor.
From Michael Sebastian of Advertising Age:
The Wall Street Journal is introducing native advertising to its website less than six months after Editor-in-Chief Gerard Baker described many publishers' moves in the arena as a "Faustian pact."

For those unfamiliar with German folklore, that's a deal with the devil.
Right. Here's more on that deal from Chris O'Shea at MediaBistro's FishbowlNY:
Sponsored content, native advertising, ads that are annoyingly similar to editorial content — whatever you want to call them, they're coming to The Wall Street Journal.

Welcome to the party.

The paper has announced that WSJ Custom Studios will create the ads labeled as "Sponsor Generated Content," and they'll be embedded among other editorial content. The first native ads, from Brocade, will debut tomorrow. Each ad will be created by staffers hired specifically for WSJ Custom Studios. No Journal staffer will be involved in the ads.
And – no surprise here – editor Baker's estimation of native advertising is now decidedly more positive. FishbowlNY's report includes this statement from Baker: "Our readers trust us, and the WSJ Custom Studios team has created clear and thorough labeling guidelines around the advertiser's content in order to protect that trust. I am confident that our readers will appreciate what is sponsor-generated content and what is content from our global news staff."
Appreciate what's sponsor-generated content . . . maybe. But much more likely . . . ignore it.
At least that's what Peter Kafka says in this Re/code piece.
Advertisers love the idea of "native ads" — marketing messages that sort of look like "real" content — because they think that Web surfers who ignore other ads will pay attention to the new format.*

This sounds interesting in theory, but less convincing when you actually look at the stuff native advertisers are creating, which often resembles lousy versions of "real" content — stiffly written advertorials that no one except the person who paid for it would ever willingly look at.

And, sure enough, very few people are looking at this stuff. Or, more precisely: People who look at this stuff can't wait to stop reading it.

* Which is really a really old format, but whatever — no time for history when you're on the bleeding edge, man.
According to Chartbeat, a Web analytics firm, "71 percent of surfers will stick with a 'real' article for more than 15 seconds . . . [but] that number drops to 24 percent for native ad stuff."
Helpful, well, chart: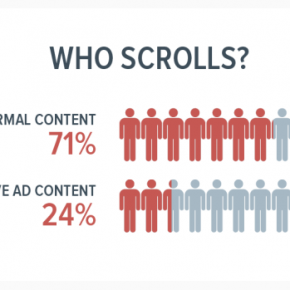 So to recap:  Publishers fall deeper and deeper in love with native advertising. Web users do not. Native ads tell publishers, It's not you; it's me.
Not a happy ending for anyone.
---
John R. Carroll is media analyst for NPR's Here & Now and senior news analyst for WBUR in Boston. He also writes at Campaign Outsider and It's Good to Live in a Two-Daily Town.
John R. Carroll has 305 post(s) on Sneak Adtack
---