The charms of stealth marketing are many and varied, as illustrated by a trio of news reports this past week.
Start with product placement, which has only become bigger and more intrusive over the past few years. From MediaPost's Center for Media Research:
The US market represented almost half (47.1%) of the world's branded entertainment industry, generating $34.53 billion in 2014, a 7.3% gain compared with the prior year. American brand marketers and their agency partners have become more sophisticated during the past decade in their strategic planning and tactical execution of TV placements.

Among the advanced strategies are increasing demand for integrations of products into scripts, instead of settling for background shots, and negotiating key placement deals to ensure close proximity to commercial breaks in which a brand's product is slated to appear first in the ad pod of multiple spots, according to the report.
Translation: Brands are now the bridge between programming and advertising. Which means they're gradually becoming one and the same.
Next up: James Fallows' Excellent Sponsored Content Adventure.
Fallows, national correspondent for The Atlantic, details the barrage of emails that daily promote stealth marketing.
The Glamorous Life of a Journalist, Sponsored Content Edition

"We are keen to establish a mutually beneficial relationship with you." Who could resist a possibility like this?

Over the past few weeks I've received emails like the one below almost every day.

Hi there,

I am just contacting you to see if you would be interested in hosting some third party content on your website, theatlantic.com?

I am currently working with a sports betting website to find websites to submit unique articles to which link back to our client's website.

We would make the article look natural by choosing a topic which is relevant to your website.

The article would need to remain live for a minimum of 12 months, be free of any tags such as guest or sponsored as well as containing no nofollow links.

If this is something that you would be interested in, please email me back so we can discuss the details further such as reimbursement.

Kind regards

The letters vary enough in length, phrasing, introductory greeting, and detailed proposals to suggest they're not all coming from the same boilerplate source. But they're similar enough in their overall pitch—we'll pay you to publish "sponsored content" as long as you conceal the fact that it's sponsored . . .
And etc. Fallows eventually tells one of the petitioners "We could not publish sponsored/outside content without labeling it as such." Fallows notes that "Popehat.com was on this beat long before me" (that's okay – the hardtracking staff will take all the friends we can get). What he does not note is The Atlantic's checkered past with sponsored content. Not to get technical about it.
While sponsored content may not work for Fallows, its kissin' cousin, native advertising, is looking mighty fine to The New Republic.
From Lucia Moses at Digiday:
The New Republic's comeback plan: native ads

The New Republic CEO Guy Vidra has called for massive changes at the 100-year-old institution, contributing to a massive staff exodus four months ago, but has been short on specifics. Now, it's clear that native is going to be a big part of that future.

In one of Vidra's first tangible moves as CEO, he is scheduled to announce the hire of Kayvan Salmanpour, as chief revenue officer. Salmanpour is a veteran content marketer. He spent the past four years building content-marketing platform Newscred, as vp of sales. Before that, he was CEO of Mediaplanet, a content-marketing agency. He's scheduled to start March 30 and will be based in the title's New York office.
As Moses points out, TNR has already jumped into embed with Credit Suisse and Southern Company. It's interesting to compare the different approaches to disclosure in the two native ads.
Credit Suisse:

Southern Company: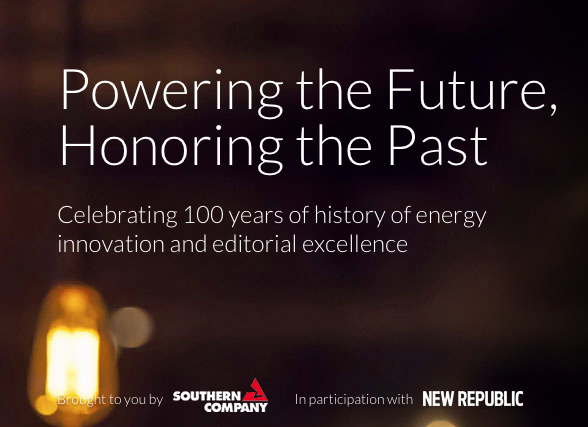 Decent transparency, yes? If you're looking, that is. Either way, look for a lot more of it in the new New Republic.
---
John R. Carroll is media analyst for NPR's Here & Now and senior news analyst for WBUR in Boston. He also writes at Campaign Outsider and It's Good to Live in a Two-Daily Town.
John R. Carroll has 305 post(s) on Sneak Adtack
---