Looking for the rocket fuel of stealth marketing?
Look to product placement.
From MediaPost's Joe Mandese:
Product Placement [Soars] Nearly 13%, Outpaces Rest Of Marketing

The U.S. product placement marketplace expanded nearly 13% in 2014 and is on track to beat that growth again this year, according to the 2015 edition of the Global Branded Entertainment Marketing Forecast released this morning by PQ Media.

At $6.01 billion, U.S. product placement marketing grew 12.8% over 2013, and is pacing up 13.2% for 2015 based on first-half data analyzed by PQ.
Helpful chart: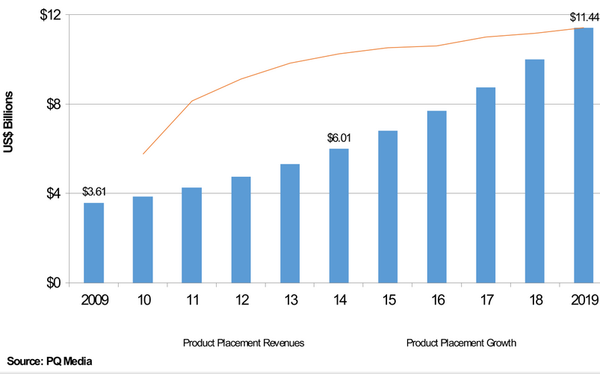 That's right: Product placement revenues are on track to roughly double every five years, reaching almost $12 billion by 2019.
And no wonder, when movies such as Jurassic World are chockablock with 30 – count 'em, 30 – product placements.
From BrandChannel:
All of the brands in Jurassic World:

JURASSIC WORLD
Alpha (helmets)
American Airlines
Beats by Dre
Ben and Jerry's
Brookstone
Chevrolet
Coca-Cola
Converse
Dasani
Dave and Buster's
eBay
Ecogear
Google
Hilton
IWC
Jamba Juice
Jeep
Kawasaki
Margaritaville
Mercedes-Benz
Nike
Nikon
Nissan
Oakley
Pandora (jewelry)
Samsung
Starbucks
Sunrio
Triumph
Verizon
Yikes. That's almost as scary as the raptors.
---
John R. Carroll is media analyst for NPR's Here & Now and senior news analyst for WBUR in Boston. He also writes at Campaign Outsider and It's Good to Live in a Two-Daily Town.
John R. Carroll has 305 post(s) on Sneak Adtack
---