The New York Times, which has gone all in with its native advertising factory T Brand Studio, continues to double up its print and native ads.
Earlier this year the Times played footsie with the Weinstein Company in promoting The Imitation Game. Right before that, the Times initiated its print/native combo platter with a campaign for Shell, as Digiday noted at the time.
The New York Times has been producing increasingly elaborate native ads online, and now it has gone a step further by extending the format to print for the first time.

The ad, for Shell, is set to appear in print and online Wednesday, and it's a far cry from the advertorials of days past. First, the size: The print component is an eight-page section that's wrapped around home-delivered copies. (In the case of newsstand copies, the ad wraps the business section.) The top sheet is opaque vellum, for extra effect. The print creative extends the Web version, with infographics that show the urbanization of the world's population. In what the Times called "icing on the cake," the print ads are enhanced by augmented reality, so that people using the Blippar app can initiate a video by holding their phone over the page.
Now comes the latest version, via Sunday's New York Times.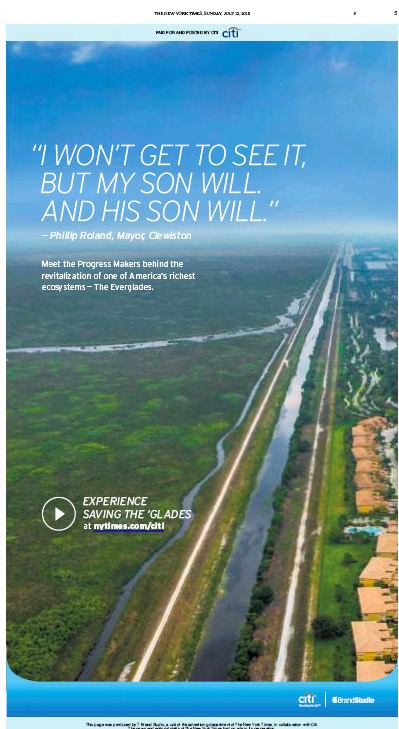 But note what's noted at the bottom of the ad.

So, to recap:
This is a New York Times print ad for . . . a New York Times native ad.
Russian nesting ads.
(To be honest graf goes here)
To be honest, the hardtracking staff isn't really sure how to characterize this twofer trend. But it definitely qualifies as State of the Cuisinart Marketing.
---
John R. Carroll is media analyst for NPR's Here & Now and senior news analyst for WBUR in Boston. He also writes at Campaign Outsider and It's Good to Live in a Two-Daily Town.
John R. Carroll has 305 post(s) on Sneak Adtack
---