Stealth marketing proceeds apace in swallowing up mainstream media.
Exhibit Umpteen, via Digiday's Jessica Davies.
The Financial Times readies paid posts for advertisers

The Financial Times is revamping its approach to branded content, with the aim of giving advertisers more options.

The publisher is uniting its existing content marketing packages and launching a sponsored content offering "paid posts," under a newly branded unit, FT Squared, dedicated to these kinds of advertiser partnerships.

"We're launching Squared and paid posts to show advertisers we're serious about content marketing," said Dominic Good, FT's global advertising sales director. "We're not racing to predict that it will become 30+ percent of our revenues by a certain date, but it's an important step forward."
Financial Times press release: "The Financial Times today announces the launch of FT² (FT Squared), bringing together a suite of content marketing products under one brand. Using a team of talented designers and writers, the FT's commercial team is increasing its focus on content creation, data analytics and new digital tools to bring carefully selected client content to the right audience at the right time."
Sneak Adtack Official Rule of Thumb (pat. pending): Beware of any media outlet promising "a suite of content marketing products."
Representative sample: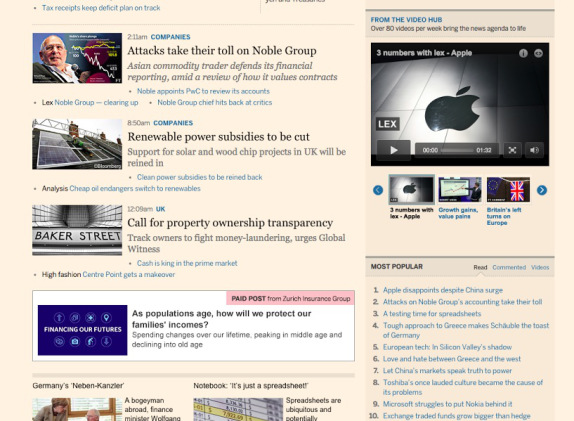 Sweet.
Which brings the hardtracking staff to . . .
Exhibit Umpteen + One, via New York Times Public Editor Margaret Sullivan.
As Print Fades, Part 3: Sponsorships and Start-ups

This is the third post in an occasional series looking at The Times's efforts to survive and thrive in the digital age.
The description of a new job in The Times's newsroom would have been startling just a few years ago. Even last week, it was enough to cause many Times journalists to do a double take.

A memo from The Times's executive and editorial page editors announced on Thursday that a senior editor, Trish Hall, is being assigned to:

— Work with the newsroom and opinion department to "analyze articles and projects that are in the works and might lend themselves to sponsorship." In doing so, she will work in close contact and cooperation with the head of advertising at The Times.

— Develop "new projects that would be attractive to readers and advertisers." She will be "a kind of projects editor looking for mini startups." She will get those projects assigned and edited by working with Times journalists. (Ben Mullin of Poynter.org wroteabout this last week.)
Sounds kind of ominous in a "Big J" journalism context, yeah?
Ms. Sullivan thinks so too.
The close collaboration between news and advertising . . . comes with a need for particular care. And sponsorships – which closely tie a particular advertiser to a particular piece of journalism – come with their own special set of concerns.
Ya think?
Karl Greenberg at MediaPost's Marketing Daily provides an interesting coda to this issue.
What Would Darwin Say About Advertising Today?

Advertising? It all depends on how you define it. Advertising as ads is dead. But advertising as something engaging that happens to be, at some level, a pitch, is relevant. It has to be or the economy is screwed. How do you keep Darwin out of the picture? A panel at Advertising Week speculated on how brands must participate in media in order to keep their messages alive.
Among the suggestions:
• Ads are critical, but the challenge is to ensure that ad experiences are as good as the experiences consumers are trying to get to.

• [Ad blocking] forces us to avoid spray and pray, but rather, offer a great experience.

• It's building engagement through right storytelling devices.
Right.
---
John R. Carroll is media analyst for NPR's Here & Now and senior news analyst for WBUR in Boston. He also writes at Campaign Outsider and It's Good to Live in a Two-Daily Town.
John R. Carroll has 305 post(s) on Sneak Adtack
---