From our State of the Cuisinart Marketing desk
As the hardtracking staff noted last year, the New York Times has taken to running print ads promoting the native advertising its T Brand Studio creates for marketers.
Representative sample: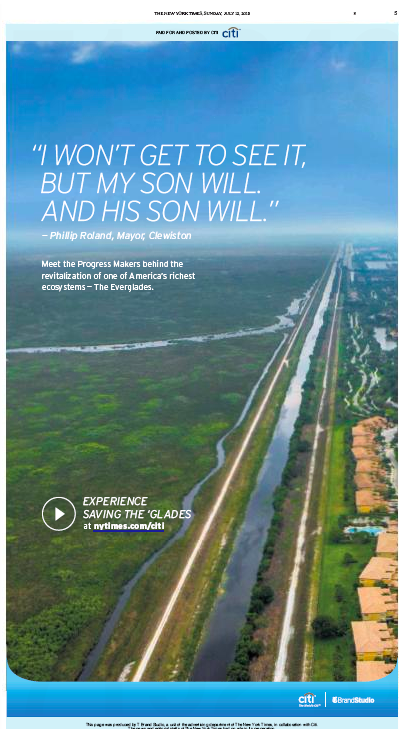 That full-page ad in the Sunday Times promoted this native ad for Citi called "The Progress Makers." (Ironic, no? Classic case of schlimbesserung – to make worse by trying to improve.)
Lately there's been a flurry of Russian nesting ads in Times print editions: June 15 for UBS ("What It Takes to Be Human"), June 23 for Philips ("Loving Hearts"), and last Friday another one for Philips: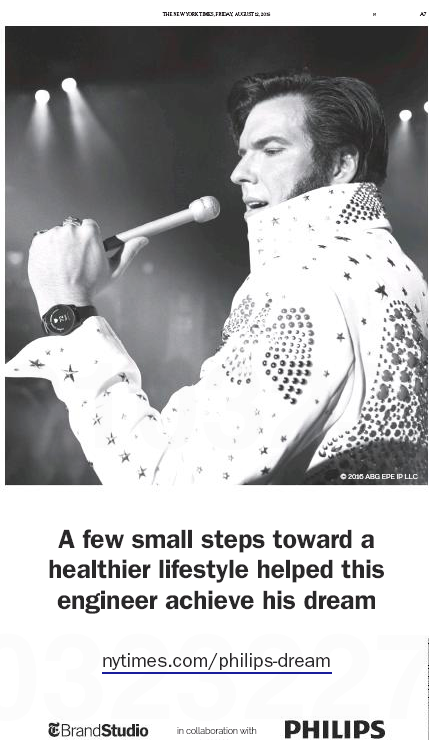 That ad promotes this ad, "Realizing a Dream."
Clearly business is booming at T Brand Studio. Here's the welcome video atop the "brand marketing" unit's YouTube channel, which features a total of 63 videos.
It's a slick production, same as the native ads T Brand turns out for clients ranging from Amazon and Delta to Christie's and MTV.
According to Times CEO Mark Thompson's essay in the 2016 Reuters Institute Digital News Report, "newsrooms and commercial divisions of news organisations must become far closer strategic partners than is generally the case today . . . Editorial and commercial leaders need to work together on integrated strategies which combine editorial mission and standards, user experience, innovations in data, technology and creative design, and radically new approaches to monetization."
And the kicker: "Not five different strategies, not even 'aligned' editorial and commercial strategies, but a single shared way forward."
Thompson projects that T Brand Studio will deliver over $50 million in revenue this year (up from $34 million last year). That's a lot of stealth marketing.
Former public editor Margaret Sullivan alternately cautioned and spanked Times execs for playing footsie with native advertisers over the past few years. From what Thompson says, things are about to get an awful lot cozier.
---
John R. Carroll is media analyst for NPR's Here & Now and senior news analyst for WBUR in Boston. He also writes at Campaign Outsider and It's Good to Live in a Two-Daily Town.
John R. Carroll has 305 post(s) on Sneak Adtack
---