Vanity Fair Studios, the in-house shop that produces branded content (a.k.a. ads in sheep's clothing) for the Condé Nast publication, has been up and running for about five years now.
But the other day was the first time the hardtracking staff saw it seep into VF's daily newsletters.
From Friday's Vanity Fair Cocktail Hour: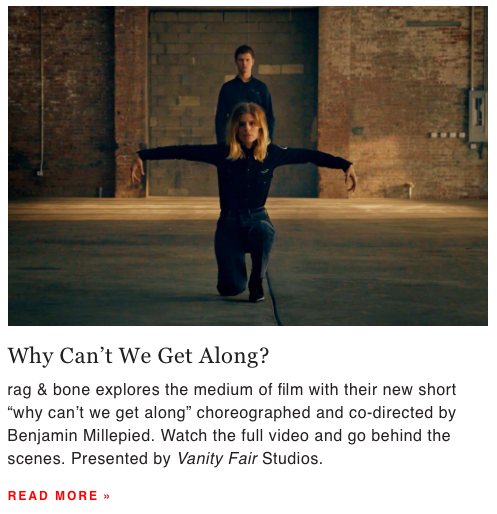 (To be sure graf goes here)
To be sure, we've only been getting VF newsletters for a few months now, but this rag & bone promo is the first sponsored post we've noticed.
Ansel Elgort and Kate Mara Dance to Thom Yorke Score in rag & bone's New Film

Benjamin Millepied and Marcus Wainwright take Vanity Fair Studios behind the scenes of "Why Can't We Get Along"

"We've always embraced the opposite of the norm, including with advertising," says Marcus Wainwright, CEO, Founder and Creative Director of rag & bone. "If you put different people in a room and have the right idea, something magical happens." The brand's latest creative collaboration, the dance film "Why Can't We Get Along," replaces the traditional NYFW runway show, an approach rag & bone has explored in past seasons. Marcus and the film's choreographer and co-director Benjamin Millepied, spoke with Vanity Fair Studios at rag & bone's offices in New York, before the film's February 1st premiere at the Metrograph theater. Shot in one day at a waterfront warehouse in the Greenpoint section of Brooklyn, the film is an exhilarating, sometimes vertiginous viewer experience, featuring an eclectic spectrum of dancers who happen to be wearing looks from the rag & bone SS18 collection.
Said exhilarating, sometimes vertiginous viewer experience here.
(Also available from Vanity Fair Studios and rag & bone: John Turturro and Bobby Cannavale engaging in Straight Talk on Hair.  Spoiler alert: It's very meta.)
As the hardtracking staff has noted, Condé Nast sold out to native advertisers three years ago, mandating that its magazine editors allow marketers to work directly with them to create "branded content."
Shanghaiing journalists to create advertising is bad enough. Interjecting native ads into everything they publish, though, is just rag & boning them.
---
John R. Carroll is media analyst for NPR's Here & Now and senior news analyst for WBUR in Boston. He also writes at Campaign Outsider and It's Good to Live in a Two-Daily Town.
John R. Carroll has 305 post(s) on Sneak Adtack
---