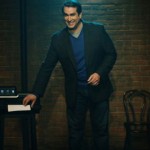 As Stuart Elliott reported in the New York Times, Hewlett-Packard has gone back to the future:
A mainstay of early television — live commercials demonstrating products like Polaroid cameras and Timex watches — is making a comeback, updated for a new century by migrating to new media.

Hewlett-Packard is teaming up with the YouTube for a live show in the form known as branded entertainment.
The show, which appeared live  yesterday on YouTube's home page, featured comedian Rob Riggle and the Upright Citizens Brigade improv group. Viewers picked the skits they wanted to see by emailing their preferences to an onstage H.P. ePrinter, a new product that features a unique email address for each printer.
Here's a sample of what you missed:
But wait! There's more! From the Times piece:
After "H.P. ePrint Live" ends, the show will be edited into segments that will run as promoted — that is, sponsored — videos on YouTube.

And the performers will continue to create clips based on ideas that consumers submit from Saturday through Jan. 26. The results will be posted on Facebook and YouTube and copies e-mailed to those who had suggested the ideas.
Presumably, you'll have purchased your ePrinter by then.
---
John R. Carroll is media analyst for NPR's Here & Now and senior news analyst for WBUR in Boston. He also writes at Campaign Outsider and It's Good to Live in a Two-Daily Town.
John R. Carroll has 305 post(s) on Sneak Adtack
---