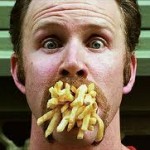 From the Sunday New York Times:
MORGAN SPURLOCK, the documentarian who eviscerated McDonald's in his 2004 film "Super Size Me," is back at the Sundance Film Festival. And big business is again in his camera's viewfinder.

This time, he toys with brand names ranging from JetBlue Airways to Ban deodorant to Pom Wonderful, the pomegranate juice. Called "The Greatest Movie Ever Sold," the documentary is Mr. Spurlock's humorous attempt to dissect the world of product placement, advertising and marketing by making a film financed entirely by product placement, advertising and marketing.
Paging Mr. Escher. Paging Mr. M.C. Escher.
Amazingly, Spurlock convinced 15 companies – from JetBlue to Ban deodorant to Pom Wonderful – that they should actually pay to put their reputations at risk. And, PR Week reports, the results are pretty good:
Critics praise the film in that it not only captures something that's shaping American pop culture but it also presents a style and approach appropriately consistent with its content.

Reuters quotes Spurlock on his inspiration:

"I was like 'Wow,' that's really where we are right now with television, such a blatant in-your-face commercial in the show," he said. "So we said, 'Let's make a film that looks at product placement, completely paid for by product placement.'"
Spurlock told EW.com in an interview he did it with no reservations:
EW: Obviously by bringing all these corporations into your project, you were risking essentially selling out your own movie.
Spurlock: Yeah, but I'm not selling out — I'm buying in! [laughs]
We'll see who else buys in, yes?
---
John R. Carroll is media analyst for NPR's Here & Now and senior news analyst for WBUR in Boston. He also writes at Campaign Outsider and It's Good to Live in a Two-Daily Town.
John R. Carroll has 305 post(s) on Sneak Adtack
---