The hardtracking staff trusts you splendid readers know Upworthy, the mother of all click bait sites.
Representative sample: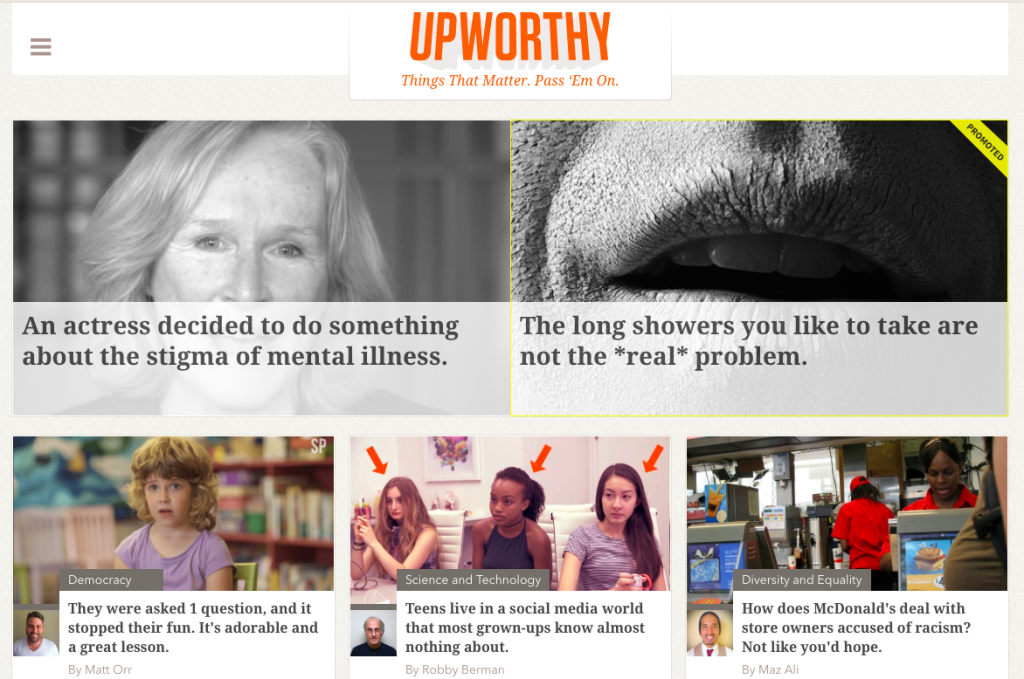 Turns out Upworthy doesn't just have native intelligence, it has native advertising intelligence as well.
From Gigaom's Matthew Ingram:
Upworthy says native advertising is working better than expected

The conventional view of Upworthy is that it is just one of a number of sites that specialize in viral "click-bait," but the site's founders have always maintained that it is different because the content it chooses has a larger social purpose behind it, as opposed to just driving clicks. And that's partly why its native advertising program is working better than expected, the company says — pulling in more than $10 million in revenue in the first nine months of last year.

Upworthy's version of native advertising or sponsored content — something almost every media entity both new and traditional is experimenting with, including the New York Times — is called Upworthy Collaborations, and involves the site partnering with major brands to create content that looks and behaves exactly like the rest of the content Upworthy posts, most of which is designed to be uplifting.
Of course advertisers are relentlessly uplifting, so this is a marriage made in marketing heaven.
Uh, make that collaboration heaven.
From Adweek's Michelle Castillo:
When Starbucks wanted to share the uplifting story of how its local events helped a deaf woman discover a large, supportive community, the coffee chain turned to a somewhat obvious choice: Upworthy.

Specifically, it went to the viral publisher of positivity's native ad division, Upworthy Collaborations, which helped package and distribute the video to an audience that always loves a tear-jerking tale.
Said video:
Granted, it's a nifty way to make advertising (Up)worthy of your attention.
It's also a total scam.
Not to get technical about it.
---
John R. Carroll is media analyst for NPR's Here & Now and senior news analyst for WBUR in Boston. He also writes at Campaign Outsider and It's Good to Live in a Two-Daily Town.
John R. Carroll has 305 post(s) on Sneak Adtack
---