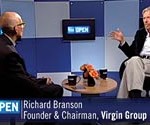 Via MediaPost's Online Media Daily:
Branded Content Finds Home On Portals, Social Sites
Lede:
Taking branded content to consumers at portals or on social media sites like Facebook and Twitter has emerged as an answer to the problem of finding or aggregating the perfect audience. That's because the audience already exists and it gives companies one-on-one conversations that provide an opportunity to fundamentally change how they market themselves.
Right. Stealthily instead of openly.
Industry rationale:
Brands shouldn't care where consumers experience content, but many still do. "The brands want you to go to mybrand.com because they can count the consumer as a unique visitor, but are those old metrics?" [a Yahoo executive] says, suggesting it brings up the point of whether consumers really experience the brand or the content. "You don't need to worry about where they experience it."
Just make sure they do experience it, right?
---
John R. Carroll is media analyst for NPR's Here & Now and senior news analyst for WBUR in Boston. He also writes at Campaign Outsider and It's Good to Live in a Two-Daily Town.
John R. Carroll has 303 post(s) on Sneak Adtack
---