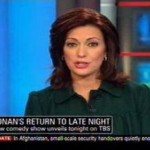 Or, Commercial Network News. According to TVNewser, the cable net spent a big chunk of yesterday promoting the premiere of Conan O'Brien's new show on kissin' cousin TBS.
MSNBC and Fox News are yet to mention the show once, but a TVEyes search shows that the program was mentioned 20 (!!) times today on CNN.

Many of those mentions were on Kyra Phillips' watch during "CNN Newsroom"  this morning. The shilling seemed to agitate her a bit, if a discussion about the show with A.J. Hammer a little after 10:15 AM is any indication:

Phillips: Something we have to talk about tonight. Gee, I wonder why. It's our sister network. Conan O'Brien, making the big return to late night TV. This was a big coup for us, to get him at TBS. What do you think? What can we expect from his new show? I know you will be tuning in.
You don't really need to know what Mr. Hammer said.
Of course, there's nothing unusual about employing news programs to promote the entertainment division.
But that doesn't make it any less deplorable.
---
John R. Carroll is media analyst for NPR's Here & Now and senior news analyst for WBUR in Boston. He also writes at Campaign Outsider and It's Good to Live in a Two-Daily Town.
John R. Carroll has 305 post(s) on Sneak Adtack
---