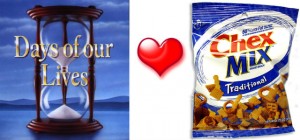 Splendid reader Kyle Cowser sent along this note:
In case you missed it, here are links to the ridiculous product placements recently in Days of Our Lives.  I didn't want Sneak Adtack to miss out.
Also check out the Twitter tag #soapoperaproductplacement.
Makes you wish you had amnesia. Or a least a long-lost twin you could commiserate with.
Assuming, that is, the twin's not trying to kill you.
---
John R. Carroll is media analyst for NPR's Here & Now and senior news analyst for WBUR in Boston. He also writes at Campaign Outsider and It's Good to Live in a Two-Daily Town.
John R. Carroll has 305 post(s) on Sneak Adtack
---