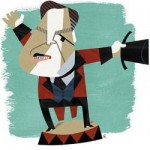 Dick Morris has turned Fox News Channel into his personal ATM.
The toe-sucking political gunsel has increasingly used his airtime to fundraise for the various front groups he's established to enrich himself.
From The New Republic:
In late September, in a brief fiveminute stint on "The Sean Hannity Show," Morris managed to direct viewers to his own website, dickmorris.com, then to a PAC he was affiliated with, AmericansForNewLeadership.com, and, before Hannity could interrupt, he implored the audience to see his new documentary, Battle for America. (The film, which sells for $19.95, features interviews with sober analysts like Ann Coulter, Newt Gingrich, and Lou Dobbs about how Obama is ravaging America, and is punctuated with images of post-apocalyptic landscapes—Morris called it "the WMD of this election.")
Morris, as it turns out, is his own WMD – Weapon of Money Direction.
Morris often uses his TV appearances to drum up business for his consulting endeavors. During the health care debate, he would beg people to donate, with pleas like, "We've got to stop them. Go to my website and look up how to contribute to run these ads." (In October 2009, Morris claimed to have raised $2.5 million for his anti-reform push.) At other times, his rainmaking will take more subtle forms, as when he touts the work of political groups like the League of American Voters—often forgetting to mention that these groups pay him to cut ads. It's difficult to trace how much money Morris rakes in, all told, though one group he has hyped repeatedly, GOPTrust.com, has paid Morris's consulting firm at least $24,000 for communications work. (Morris did not respond to an interview request.)
So Fox News is being suckered by the toe sucker.
Sound fair, on balance?
---
John R. Carroll is media analyst for NPR's Here & Now and senior news analyst for WBUR in Boston. He also writes at Campaign Outsider and It's Good to Live in a Two-Daily Town.
John R. Carroll has 303 post(s) on Sneak Adtack
---