Dispatches from the stealth marketing front:
U.S. Senate Goes Public on Privacy
Well, one U.S. Senator, anyway.
From Adweek:
Senate's Privacy Hearing Draws Many Spectators, Few Lawmakers

Session turns into one-man show led by Sen. John Kerry
There was a packed house for the hearing that the Senate Commerce Committee held about online privacy Wednesday. At least, it was packed with spectators. Most senators, on the other hand, appeared not to care. Though 25 senators are members of the committee, only three showed, and by the end, only Sen. John Kerry, D-Mass., was left. Yet, make no mistake, it will be the Senate that leads online privacy legislation.
Maybe. Then again, it might be not legislation, but litigation that increases online privacy.
Flash: Cookies Under Siege in Court
The Cookies 'n' Milk Data crowd are up in legal arms over lawsuits claiming that they violate consumers' privacy with all their Web tracking devices.
From MediaPost:
The ad network Specific Media says that a lawsuit accusing it of using Flash cookies to circumvent consumers' privacy settings is nothing more than an attempt by "opportunistic plaintiffs' lawyers to shake down a law-abiding company."

"The court should not countenance such a lawsuit and should dismiss the complaint," the company says in a motion asking the U.S. District Court in the Central District of California to dismiss a potential class-action privacy lawsuit brought last year by a group of consumers.
Specific Media says it doesn't use Flash cookies, and even if it did, "the lawsuit should be dismissed because the consumers did not assert in the complaint that they were harmed economically by the alleged privacy violation."
Google and Facebook, also the targets of privacy-violation lawsuits, are essentially using the same no harm-no foul defense. But the MediaPost piece says the plaintiffs in the Specific Media suit have countered that the information it gathered is intrinsically valuable, and "point to relatively new businesses — like personal.com and the UK site i-allow.com — that say they offer ways for users to receive compensation for their data."
More legal wrangling to come, no doubt.
Can Ethics and Stealth Marketing Just Get Along?
The Institute for Advertising Ethics (yeah – who knew?) has released a set of guidelines for marketing disclosure. From Ad Age:
The advertising industry has a new ethics code, as the Institute for Advertising Ethics today released a set of eight principles on issues ranging from the blurry line between advertising, editorial and entertainment content to behavioral targeting and disclosure of compensation for social-media endorsements.
Why ethics all of a sudden? Maybe because of this: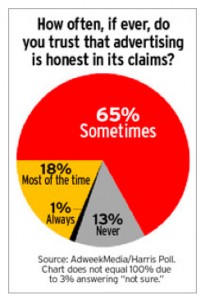 Among the new guidelines ("these are not set in stone," an Institute exec says) are:
Advertisers should clearly distinguish advertising, public relations and corporate communications from news and editorial content and entertainment, both online and offline.
Advertisers should clearly disclose all material conditions, such as payment or receipt of a free product, affecting endorsements in social and traditional channels, as well as the identity of endorsers, all in the interest of full disclosure and transparency.
Yeah, wake me when they enforce the kinds of restrictions the Brits have on product placement. That's a set of principles with teeth.
---
John R. Carroll is media analyst for NPR's Here & Now and senior news analyst for WBUR in Boston. He also writes at Campaign Outsider and It's Good to Live in a Two-Daily Town.
John R. Carroll has 302 post(s) on Sneak Adtack
---