The Sneak Adtackniks aren't big Facebookers, so maybe we're the only ones who missed this (via MediaPost):
Facebook ads often incorporate a social element, letting users see what actions their friends have taken in connection with an advertiser or ad, such as "liking" a brand page or responding to an event-related ad. Earlier this year, Facebook took that word-of-mouth concept a step further with the rollout of Sponsored Stories, a new premium format that essentially turns status updates themselves into ads. Actions such as "liking" a brand, "checking in" at a venue, or sharing an app that appears in the user's news feed are converted into ads for the companies or products mentioned. And there's no way for people to opt out of seeing or being featured in the ads. [emphasis added]
Here's what one might look like: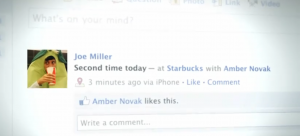 And here's how it would look on all your friends' Facebook pages: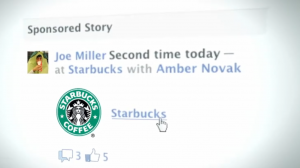 According to a Facebook video, "The reality is, when we're making a [consumer] decision, we're looking for information, and we want that information to come from people we trust. The Sponsored Stories, what they let advertisers do is take these word of mouth recommendations and promote them."
Advertisers can also find helpful videos on YouTube like How to Create a Facebook Sponsored Story.
And if you're wondering whether there's a video How to Uncreate a Facebook Sponsored Story, there is not.
---
John R. Carroll is media analyst for NPR's Here & Now and senior news analyst for WBUR in Boston. He also writes at Campaign Outsider and It's Good to Live in a Two-Daily Town.
John R. Carroll has 305 post(s) on Sneak Adtack
---