Advertising Age reports that Consumers Union has run a full-page ad in Politico blasting Facebook's privacy policy.
Consumers Union Blasts Facebook in Full-Page Ad

Consumers Union took out a full-page ad in Politico today bashing Facebook's privacy policies–or lack thereof. While the ad copy seems written to an average consumer, its placement in Politico is obviously an attempt to catch the eye of politicians.
The ad: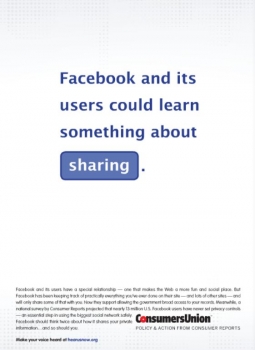 The text:
"Facebook and its users have a special relationship — one that makes the Web a more fun and social place. But Facebook has been keeping track of practically everything you've ever done on their site — and lots of other sites — and will only share some of that with you. Now they support allowing the government broad access to your records. Meanwhile, a national survey by Consumer Reports projected that nearly 13 million U.S. Facebook users have never set privacy controls — an essential step in using the biggest social network safely. Facebook should think twice about how it shares your private information … and so should you."
The ad directs readers to hearusnow.org, which urges readers to "Tell Facebook to strengthen privacy!"
With Facebook about to go public, could privacy issues queer the deal?
---
John R. Carroll is media analyst for NPR's Here & Now and senior news analyst for WBUR in Boston. He also writes at Campaign Outsider and It's Good to Live in a Two-Daily Town.
John R. Carroll has 302 post(s) on Sneak Adtack
---