Despite all the hoopla in D.C. about protecting consumer online privacy, there's this from the Wall Street Journal:
Online Tracking Ramps Up

Popularity of User-Tailored Advertising Fuels Data Gathering on Browsing Habits

Online tracking on 50 of the most-visited websites has risen sharply since 2010, driven in part by the rise of online-advertising auctions, according to a new study by data-management company Krux Digital Inc.

The average visit to a Web page triggered 56 instances of data collection, up from just 10 instances when Krux conducted its initial study, in November 2010. The latest study was conducted last December.
As the Journal piece points out, the online-advertising business now totals $31 billion – with a bullet. Which has led to online auctions, "where advertisers buy data about users' Web browsing. Krux estimated that such auctions, known as real-time bidding exchanges, contribute to 40% of online data collection."
Helpful graphic here: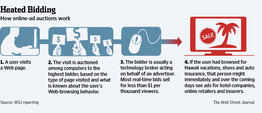 Troubling quote here:
"We've moved from a traditional advertising model of buying 1,000 impressions. Now you evaluate and buy a single impression."
P.S. That means you!
---
John R. Carroll is media analyst for NPR's Here & Now and senior news analyst for WBUR in Boston. He also writes at Campaign Outsider and It's Good to Live in a Two-Daily Town.
John R. Carroll has 305 post(s) on Sneak Adtack
---