The hardtracking staff is acutely aware that stealth marketing ranks somewhere below Ghana on the average American's radar screen.
Still, you'd think the media hall monitors of this world would give it serious consideration.
WRONG!!!
Exhibit Umpteen: This piece by Andrew Beaujon on the Poynter website.
The problem with BuzzFeed's sponsored posts

BuzzFeed is not just upending conventional wisdom on how Internet publishers can make money with its innovative digital ads; the lists, quizzes and posts it creates with advertisers show brands they can "actually create something people will engage with," BuzzFeed CEO Jonah Peretti told the Guardian's Heidi N. Moore.

That's good news for marketers, but its sponsored posts are also a win for readers who might otherwise flee from advertorial content. Though clearly marked, they look and feel like BuzzFeed's editorial content, and they're not sharing screen space with ads trumpeting the fat-burning properties of açai berries.
Seriously? "Clearly marked?" "Not sharing screen space with ads?"
Wrong on both counts: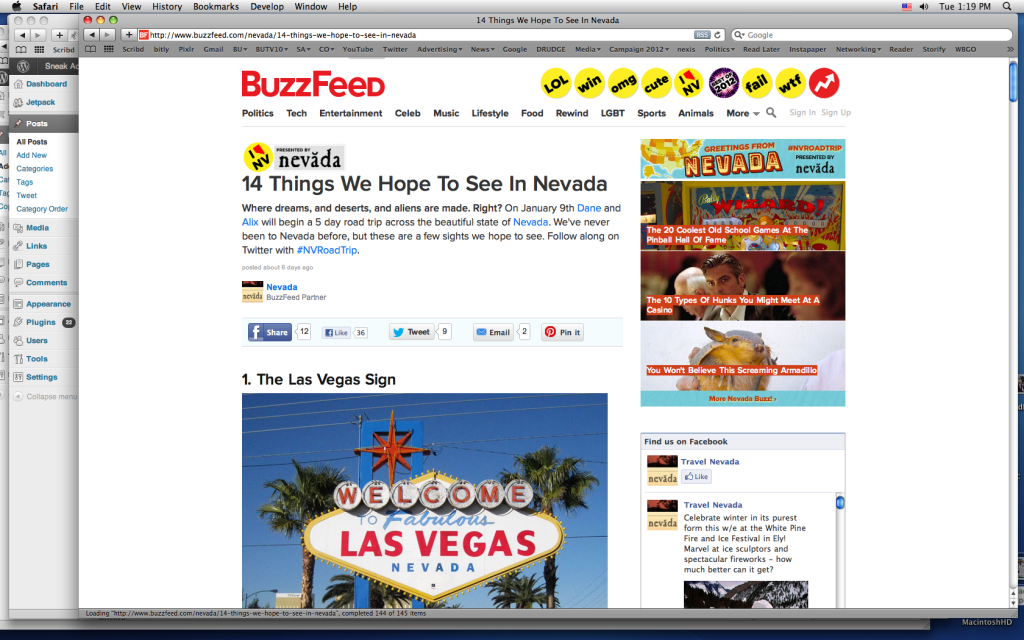 Where exactly is it clearly marked? And what are those things on the right-hand side – cantaloupes?
But that's not the problem with these ads in sheep's clothing, according to the Poynter piece. This is:
BuzzFeed often appears to have a palpable distaste for copyright law . . .

Last week, BuzzFeed riled up Reddit users with a Samsung-sponsored postcalled "14 Amazing Photos That Are Totally Not Photoshopped"; after those users complained, BuzzFeed switched to photos taken from Flickr, then took the post down.
No question that's a problem. But, contrary to Poynter's overall view of sponsored posts, it's not the problem. Just one of many.
---
John Carroll, who also writes at Campaign Outsider and It's Good to Live in a Two-Daily Town, is a media analyst and mass communication professor at Boston University.
John Carroll has 188 post(s) on Sneak Adtack
---