Two people other than the hardtracking staff, that is.
As our kissin' cousins at Two-Daily Town noted last week, Boston Red Sox huckster – sorry, slugger – David Ortiz used the President of the United States as his prop for a cheap Samsung marketing stunt when the team was feted at the White House.
And we weren't the only ones who didn't like it, as the Boston Globe reported a day later.
White House objects to Ortiz-Obama selfie

WASHINGTON — Samsung drew a rebuke from the White House Thursday for use of a widely distributed cellphone photo that Red Sox slugger David Ortiz snapped this week of himself with President Obama.

The president, one of his top aides said, does not wish to be portrayed as an endorser for the electronics firm, which had employed Ortiz as a social media ambassador.

"As a rule, the White House objects to attempts to use the president's likeness for commercial purposes," White House press secretary Jay Carney said during his daily news briefing on Thursday. "And we certainly object in this case."
As did some Globe readers. From yesterday's Letters to the Editor: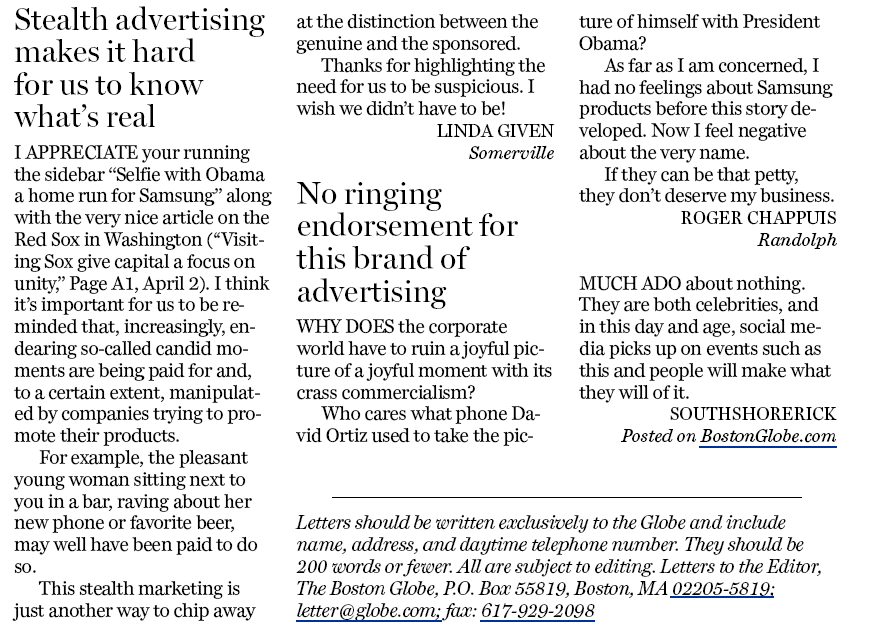 Note also the third letter, however, declaring the whole selfuffle "much ado about nothing."
Two steps forward, one step back, yeah?
---
John R. Carroll is media analyst for NPR's Here & Now and senior news analyst for WBUR in Boston. He also writes at Campaign Outsider and It's Good to Live in a Two-Daily Town.
John R. Carroll has 305 post(s) on Sneak Adtack
---