The hardtracking staff's kissin' cousins at Campaign Outsider have written extensively about Rick Berman, the corporate gunsel who sets up stealth non-profit groups to front for the liquor, fast-food, tobacco, and restaurant industries.
Oh, yes – and for any companies that oppose unionization of their employees.
Those latter activities fall under the umbrella of the Center for Union Facts, which has been running this ad in the latest issues of the Weekly Standard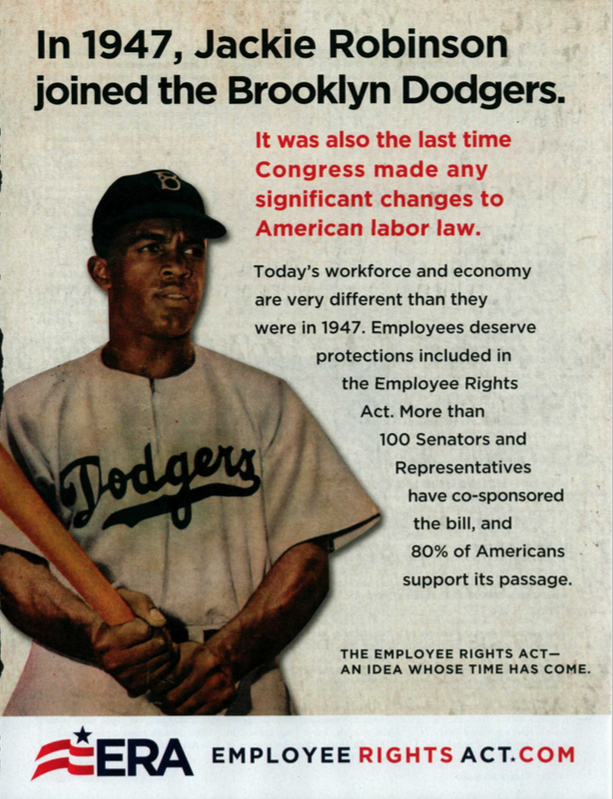 Two questions:
First, would Jackie Robinson really want himself associated with some union-busting creep like Rick Berman?
Second, did Berman actually acquire the rights to this photograph? 'Cause it sure doesn't look like it from the ad.
So the headscratching staff has sent the following email to the Center for Union Whatever:
Dear Sir or Madam,

I am a media analyst in Boston and have just posted this to my Sneak Adtack blog:

Can you tell me if the Center for Union Facts acquired the rights to the Jackie Robinson photo you are using in your current Employee Rights Act advertisements in the Weekly Standard?

As you can see from, I've copied Getty Images, which seems to hold the license for said photo.

Thank you for your consideration.

Sincerely,
[The hardtracking staff]

cc: Getty Images
Realists that we are, we don't expect to hear from anyone about this matter. But if we do, we'll let you know.
---
John R. Carroll is media analyst for NPR's Here & Now and senior news analyst for WBUR in Boston. He also writes at Campaign Outsider and It's Good to Live in a Two-Daily Town.
John R. Carroll has 305 post(s) on Sneak Adtack
---