As mainstream media organizations suffer knee-buckling ad revenue declines, it's not surprising that the stealth marketing industrial complex has shifted into high gear of late.
Somewhat surprising, though, are some big media names producing an increasing number of ads in sheep's clothing.
Time to itemize a few deductions.
Item: The Grey Lady Shows Even More Leg
Alexandra Bruell's Wall Street Journal profile of New York Times chief operating officer Meredith Kopit Levien illustrates how tight Times marketing and Times journalists have become.
The Woman Behind the New York Times' High-Risk, High-Reward Business Strategy

Meredith Kopit Levien uses nontraditional ad deals amid challenging times in publishing

At the annual advertising festival on the French Riviera two summers ago, top New York Times Co. executive Meredith Kopit Levien sipped rosé with marketing executives from Samsung Electronics Co.

She brought a high-profile guest: Times columnist Maureen Dowd. At Samsung's virtual-reality installation, the group took turns trying on the latest goggles to immerse themselves in an interactive theater experience. A formal ad sales pitch soon followed from Ms. Levien's team.

Months later, the companies sealed a deal: the $14 million, 15-month commitment included Samsung "360" cameras distributed to hundreds of Times reporters, as well as heaps of ad space. The resulting 360 videos got prominent placement, some on the home page, and they carried a credit for Samsung.
Samsung's investment also got prominent placement in the print version of the Times with full-page ads like this one.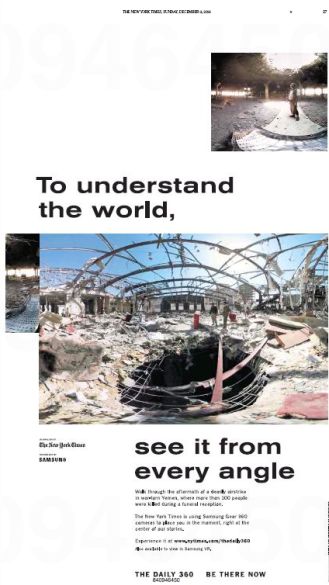 In fact, every angle is what the Times is now playing, "shifting away from one-off ad placements of the low-six-figure variety, in favor of more elaborate and lucrative deals that resemble corporate partnerships," according to Buell's piece.
Kind of like this full-page ad in yesterday's Times.
That's two Premier Sponsors and one Supporting Sponsor for those of you keeping score at home.
Not to worry, croons Times executive editor Dean Baquet.
[Baquet] said that nothing has changed with regard to the advertising division's relations with the editorial operation, which has always made its own decisions about coverage.

The difference today, he said, is that questions about the appropriate line between business and editorial come up more often. "In the print era, you created something. It worked or didn't work," he said. "Now, we're in an era where those conversations happen more frequently and we have to move faster."
The Samsung 360 deal "caused controversy in the newsroom, and I get that," he said, adding that he didn't force anyone to create stories with Samsung devices and "some found it really cool."
And some, presumably, find it not so cool.
We understand that the old newspaper revenue model is broken, and the Times has done a better job than most in adjusting, as this Journal graphic indicates.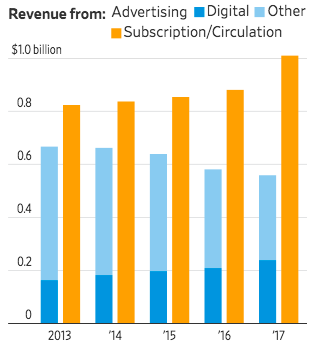 But the Journal piece also reports that the chief marketing officer of Principal Financial Group got to sit in on a Times editorial meeting to see "how the sausage is made." Doesn't seem quite kosher to us.
Item: Tonight Show's Jimmy Fallon Goes (T) Mobile
As the hard tracking staff has noted on three different occasions, Tonight Show host Jimmy Fallon has a habit of slow jamming ads down viewers' throats. Now MediaPost's Television News Daily reports that he's at it again.
'Tonight Show' Central Park Episode Included In T-Mobile Partnership Deal

NBC's "The Tonight Show Starring Jimmy Fallon" will air a special episode from Central Park in New York City on Thursday, September 13. T-Mobile, a major sponsor of the series, has begun a "first-of-its-kind partnership" with the program.

The episode will have special creative content and surprise guests. Much of the show will be adorned in the color magenta — a dominant hue in T-Mobile marketing.
Color us not at all surprised, given that T-Mobile has been the Tonight Show's largest advertiser during the past year.
Then there's this: "As part of its new partnership with 'Tonight,' T-Mobile will also be involved, later in the season, with a special Veteran's Day episode."
Swell. That'll make up for the postponement of Donald Trump It's All About Me Parade, yeah?
Item: Vanity Fair's Cover Story: Advertisers Welcome to It
There was a time, believe it or not, when a news publication's front page/cover was strictly off limits to advertisers. That time, of course, is gone. Jacob Gallagher's Wall Street Journal piece last Friday chronicled the umpteenth example of the lend-lease program.
On Monday, the New York Post caused a fracas across New York City as those in the know raced to get a copy. Yes, an actual ink-printed, hold-it-in-your-hands newspaper still has the power to cause a commotion. Delivery drivers reported that young people chased down their trucks. Other Post-seekers rose, well before sunrise, to snatch up copies by the bundle. Why? All for an advertisement.

For the first time in the Post's 216-year history (the paper is owned by News Corporation, the same company that owns The Wall Street Journal), its infamous front page, beloved for its punny headlines, was upstaged by a stark wraparound advertisement.
Over at Vanity Fair the cover story is slightly different, as New York Times chief fashion critic Vanessa Friedman notes.
When Brand Synergy Lands on the Cover

Let's face it: Very few people really read a magazine's cover credits, which is to say, the boxes of very small type inside the table of contents listing the team behind the image, the clothes worn and the cosmetics used.

Sometimes, however, they contain nuggets of information that are forensically and culturally revealing. The September Vanity Fair is one of those times.

The image, for those who have been distracted by Beyoncé on Vogue, is of the actress Michelle Williams, perched on a stool, seemingly almost makeup free, in a crew-neck sweater and skirt against a maroon background. It's minimal and unadorned, sort of confrontational in its apparent lack of artifice: This is me. Here's what I think. Deal with it.
Emphasis on deal – Williams is an "official brand ambassador" for Louis Vuitton, is wearing Louis Vuitton, and the photograph was taken by Collier Schorr, who also shoots Louis Vuitton's ads, which look kind of similar to . . . the Vanity fair cover.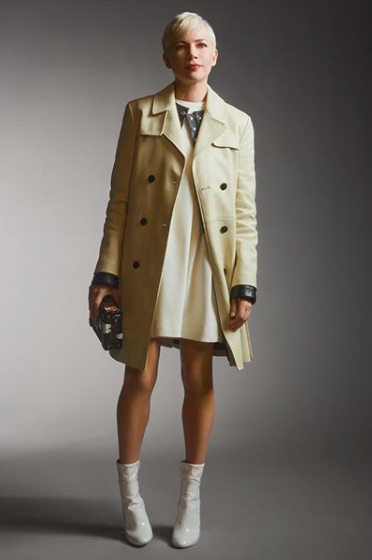 Vanity Fair editor Radhika Jones told the Times, "Collier is an extraordinary New York artist whose work lives at the intersection of art and fashion."
And commerce and advertising.
Four-way stop signs, anyone?
---
John R. Carroll is media analyst for NPR's Here & Now and senior news analyst for WBUR in Boston. He also writes at Campaign Outsider and It's Good to Live in a Two-Daily Town.
John R. Carroll has 305 post(s) on Sneak Adtack
---