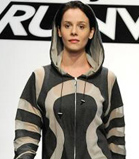 Unfortunately,  last week's post on product placement in Project Runway jumped the gun, pre-empting this week's shill-a-thon for Heidi's New Balance activewear line.  The challenge was this: the designers were asked to develop three outfits that could be incorporated into Heidi's line, with the winning looks being sold with Heidi's other garments "exclusively on Amazon.com."
Integrating a pre-existing product or clothing line into the challenges is no new thing on Project Runway.  Season 4′s episode centering around Sarah Jessica Parker's clothing line "Bitten" springs to mind, as well as challenges hawking everything from Marie Claire magazine, to Macy's, to a Saturn hybrid car (a very memorable Season 5 episode).
While perhaps the argument could be made that these kind of working partnerships are typical of the fashion industry, last Thursday's episode came across as nothing more than an hour and a half long commercial for a pretty sad looking collection.  Isn't Project Runway supposed to be about capital F Fashion, not just clothes?  The show's viewers have put up with far worse advertising ploys in the past, but now the quality of the show seems to hang in the balance.  The last thing we need is this kind of stealth promotion – particularly when it undermines the end product.
Shame on you, Heidi.
---

Liz White has 15 post(s) on Sneak Adtack
---