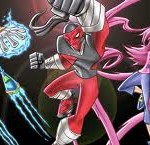 Boston Globe editorial:
Give advertainment the boot
Text:
[A]dvocates of protecting children from excessive advertising have blown the whistle on a new Nicktoons animated children's program that features [characters] used in TV ads and comic strips to promote Skechers shoes. The Federal Communications Commission should give the series the boot.

The Boston-based Campaign for a Commercial Free Childhood contends that the entire cartoon series "Zevo-3'' should be considered an ad for Skechers footwear because its main characters — Kewl Breeze, Elastika, and Z-Strap — have done prior duty for Skechers advancing specific models of children's shoes. According to the campaign's petition to the FCC, Skechers has been so successful in using these superheroes to brand these models that kids shopping for shoes often refer to the model they seek by the name of the character.
Sneak ADtack has already noted this breach of FCC regulations. When will the FCC notice it?
---
John R. Carroll is media analyst for NPR's Here & Now and senior news analyst for WBUR in Boston. He also writes at Campaign Outsider and It's Good to Live in a Two-Daily Town.
John R. Carroll has 303 post(s) on Sneak Adtack
---