Native advertising/sponsored content/brand journalism is all the webrage these days, and media sites are falling all over themselves to figure out the best way to provide stealth marketing to advertisers.
Now Digg this (via Digiday):
Native Ads: The Digg Way

For most publishers  entering the world of sponsored content the concern is keeping editorial separated from the creation of the advertising content.

Not so much at Digg, the social-news platform bought and revived by digital media holding company Betaworks. At Digg, for the past seven months, editorial staffers have been hip deep in crafting its new ad products.
The vision, the piece says, is to craft a new type of native advertising that "is driven by the editorial team, which knows best what types of advertisers will resonate with the Digg audience . . . The difference between these ads and other native ads that run on other sites is that Digg's editorial team writes the content."
Representative sample: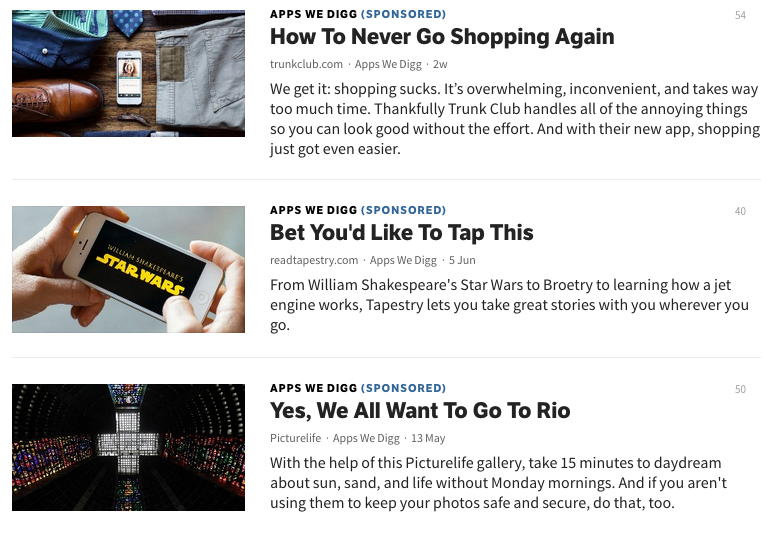 Some form of creative involvement in sponsored content is the wave of the present for media outlets, as this other Digiday post noted:
Publishers are crazy for native advertising, but they're stuck with a problem: Who is going to create it?

That's why publishers like Vice and Gawker have begun partnered content-creation arms. Add The Huffington Post to the mix. This week it is officially taking the wraps off its new in-house branded content agency, HuffPost Partner Studio. Its charter is to make advertising that looks like regular Huffington Post content. For example, there's this infographic for "Paranoia," a new film with Harrison Ford and Gary Oldman, and this L'Oréal editorial about why "your daughter is a dork, and that's okay."
Not to mention the 100 greatest movie compliments of all time.
In-house agencies, in sum, "will take a more hands-on approach to creating original content."
The hardtracking staff knows there's no bottom to this well.
All we ask is that it's clearly labeled.
---
John R. Carroll is media analyst for NPR's Here & Now and senior news analyst for WBUR in Boston. He also writes at Campaign Outsider and It's Good to Live in a Two-Daily Town.
John R. Carroll has 303 post(s) on Sneak Adtack
---