Last week the hardtracking staff detailed the stealth marketing efforts of Maria Menounos ("American actress, journalist, television presenter and occasional professional wrestler") for discount retailer Marshalls.
Now comes her sneaktweet for Nike (via the Boston Herald).
From Monday's edition:
Menounos tweet: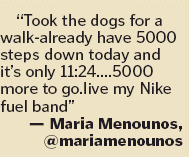 See Menounos connection to Nike here.
Far be it from the hardtracking staff to label Maria Menounos a tweetslut, but c'mon, yeah?
---
John R. Carroll is media analyst for NPR's Here & Now and senior news analyst for WBUR in Boston. He also writes at Campaign Outsider and It's Good to Live in a Two-Daily Town.
John R. Carroll has 305 post(s) on Sneak Adtack
---