The New York Times ran this Nick Bilton Disruptions piece on Page One of Monday's Business section:
Social Media Product Plugs Draw Scrutiny

In 1982, Bill Cosby appeared on television showing off a snazzy new computer. "Looking for a powerful home computer?" he said as he waved his hands over a Texas Instruments PC that looks archaic now. "This is the one! With 16K memory, it can take you a long way."

The commercial made it obvious that Mr. Cosby, a prominent comedian and television star, was being paid to promote the boxy device.

Computers have changed significantly in the decades since. And, to the confusion of consumers, celebrity endorsements have, too.
Right. They've gotten sneaky. The Times piece points to this celebrity tweet as an example: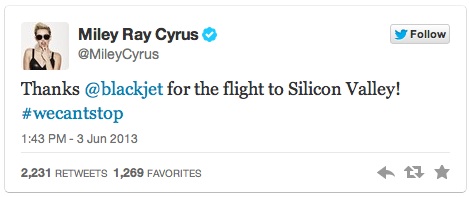 The thing is, Cyrus was "given some consideration for her tweet," according to a BlackJet executive. But, asks the Times, "[d]id her 12 million Twitter followers know about the arrangement? It's unlikely . . . "
Well, if those 12 million Twits had read Sneak Adtack (as if), they would at least have been suspicious.
That's because the hardtracking staff posted this several months ago, along with this:
Maria Menounos Is a Twitter Mole

Last week the hardtracking staff detailed the stealth marketing efforts of Maria Menounos ("American actress, journalist, television presenter and occasional professional wrestler") for discount retailer Marshalls.

Now comes her sneaktweet for Nike (via the Boston Herald).

From Monday's edition:

Menounos tweet:

See Menounos connection to Nike here . . .
And etc.
The Times piece goes on to mention Ashton Kutcher, who "tried to sneak companies in which he invests onto 'Two and a Half Men,' the CBS show for which he is a lead actor, by placing stickers for the tech outfits Foursquare, Chegg and Flipboard on his character's laptop."
What else is new – the hardtracking staff had that story two years ago.
C'mon, Mr. Bilton – credit where credit's due, yeah?
---
John R. Carroll is media analyst for NPR's Here & Now and senior news analyst for WBUR in Boston. He also writes at Campaign Outsider and It's Good to Live in a Two-Daily Town.
John R. Carroll has 305 post(s) on Sneak Adtack
---